10Radio: Community Radio for the Ten Parishes
In line with other radio stations, on the day of the funeral of Her Majesty Queen Elizabeth II, 10Radio suspended its normal schedule as a mark of respect. Normal programming was resumed on Tuesday 20th September.

10Radio would like to express sincere condolences to the Royal Family at this sad time, for them and for the whole nation.  God Save The King
Keeping our local community informed - 2022
You will find all our regular shows and more appearing in What's On below and, following recent training courses, we now have more presenters for even more new shows.
ALICE – our outside broadcast lorry is back on the road and we can help support your local event by providing announcements, PA and an outdoor stage for your performances.  For more information Contact Us in one of the following ways by
 - email to studio@10Radio.org
 - text STUDIO followed by your message to 07786 20 22 40
 - using the box to the right - we will respond as soon as possible or
 - telephone and leave a message on 01984 624137
Coming soon a brand new 10Radio website with details of all our programmes and presenters - so watch this space.
Any questions or for information about local community matters please contact Wiveliscombe Community Office on 01984 624777
What's On 10Radio?
If you see a programme you like - Listen Now
You can Download the 10Radio App to any device
Search for 10Radio in your App Store
The Home Service - bringing worship to you at home
Every Sunday morning at 10.00am  Rev. Andrew Norris hosts a one hour programme, which includes an act of worship conducted by local church leaders. 
Download the Words and join in the singing and listen at any time from the poster link above.
About 10Radio
10Radio is the community radio station for the Ten Parishes of Ashbrittle, Bathealton, Brompton Ralph, Chipstable, Clatworthy, Fitzhead, Huish Champflower, Milverton, Stawley and Wiveliscombe in Somerset.
10Radio broadcasts 24/7 from studios in Wiveslicombe, Somerset. Our programmes include a live Breakfast Show every Monday to Friday 7-9am and on Saturday 8-10am. We provide a diverse range of music, comedy and talk shows weekday evenings, and great all-round entertainment at the weekends. The rest of the time you can listen to repeats of earlier shows or to our unique 'shuffle' of music.
10Radio is broadcast from the people to the people - it is entirely owned and run voluntarily by the local community.
10Radio transmits on 105.3FM from a hill-top near our Studio in the small Somerset town of Wiveliscombe. Our signal covers a wide area and can also be heard well in the local large towns. Download More Info...
Get Involved - 10Radio Groups
Join 10Radio community with no obligation and get updates on programmes and all sorts of other information - simply send an email to 
10Radio+subscribe@googlegroups.com
Click Here to hear (and see) from the Technical Team how it all works.
Need help at any time?
Click Logo to find useful telephone numbers (opens in a new tab)
Mindline - a friendly, anonymous and non-judgmental listening service for people feeling isolated or distressed. Also available to those concerned about a friend, relative or neighbour experiencing mental distress.
Follow 10Radio on Facebook and Twitter
21st January 2022
More than 14 Years of great radio with even more to come!
We have been counting, for more than 6 years, on-line listeners who have been enjoying 10Radio from over a hundred countries around the world...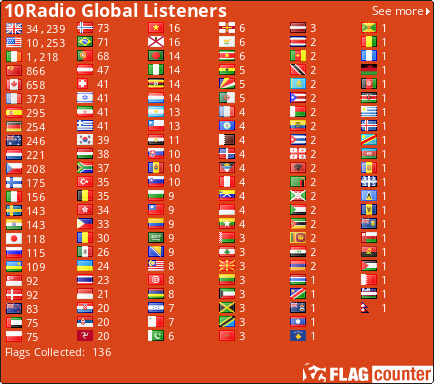 ---
Studio: 10Radio, The Base Studio, Hartswell, Wiveliscombe, Somerset, TA4 2NE. Tel: 01984 624 137
10Radio CIC. Registered Office: The Base Studio, Hartswell, Wiveliscombe, Somerset, TA4 2NE
Registered in England and Wales Number: 6004254
10Radio depends upon the support of its listeners to provide the music and programmes that you want to hear. Click the above Donate button now to make your contribution - and a big Thank You
@10RadioCIC